Free Webinar: What Everyone Wants to Know About Homeopathy
Monday March 30 at 8pm EST
Homeopathy is a natural, safe, and gentle system of healing that works with your body to relieve mental, emotional and physical symptoms, restore vitality, and improve your overall health.
This one-hour webinar will provide you with a basic understanding of homeopathy and an opportunity to ask your questions.
Do consider attending IF you want to take more natural products to heal your symptoms, IF you want to possibly reduce the amount of chemical medicine you're taking, IF you're looking for another path to healing or IF you want to learn more about how to just feel better using homeopathic remedies.
Hosted by Abby Beale, a nationally certified classical homeopath and past president of The National Center for Homeopathy, who thoroughly enjoys sharing the simple power of this natural healing modality. For more, visit her website at www.homeopathyhealings.com.
The webinar will be recorded and links to the playback provided to those who register.

Learn How to Use A Homeopathic Kit At Home!
~ 2020
Beginner
Study Group ~
Do you want a more natural and holistic approach to healing?
Would you like to reduce the amount of chemical medicine you and your family are taking?
Would you like to learn how to use

 

homeopathy in acute situations?
Nationally certified classical homeopaths Abby Beale CCH and Heather Welch-Smith CCH will be offering a once-a-month in-person homeopathic study group in 2020 for anyone interested in learning how homeopathy can be used for acute illnesses and first aid.
Some of the main areas we will focus on include:
the history of homeopathy
how remedies are made and proved
what symptoms indicate which remedy
how to take a remedy
homeopathic philosophies
good case-taking practice
what books are good for getting started
and so much more!
Dates: First Wednesday of every month (starting Feb 5, 2020): 
New members may join at anytime but to get the most of your time, best to start in Feb or March. Contact me if you plan to join late.
February 5
March 4
April 1
May 6
June 3
July 1
August 5
September 2
October 7
November 4
December 2
Time:  6:30pm-8:30pm (You can bring your dinner or buy it onsite)
Where:  River Valley Coop, Northampton, MA
Fee (includes all 11 meetings and the NCH Study Guide Book):
$195 for members of NCH (National Center for Homeopathy)
$260 for non-NCH members (include $10 discount on membership)
Contact Abby to reserve your place and receive registration form.
Space is limited!
---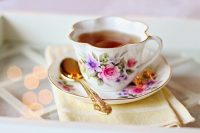 Tea with a Homeopath
Do you have interest in learning about homeopathy? Would you like to learn how to use a homeopathic kit to treat common ailments at home?  Join me for Tea with a Homeopath. 
Upcoming Public Teas
Saturday April 18, 2020 OR Saturday May 30, 2020 from 2pm to 3:30pm
The Art Center of The Red Barn in Durham, CT
RSVP: Let us know how many are coming. Call or text 413-426-1024 or email homeopathyhealings at gmail.com
Want to Host a Tea?
Tea with a Homeopath is an intimate get together comprised of your friends/family/interested colleagues that is held at either your home or other meeting space. It's a free event where we talk about homeopathy and learn how to get started using a homeopathic kit at home for all kinds of acute situations like bumps and bruises, digestive issues, colds, coughs, flus, bee stings, skin rashes and so much more!

If you have a group of people you'd like to introduce to homeopathy, contact me to set up a tea time. I bring the tea and snacks; you provide the people and the place!
Tea coordinators will be gifted either a first-aid homeopathic travel kit and user guide OR credited for one follow up appointment with thanks for helping spread the word about homeopathy.