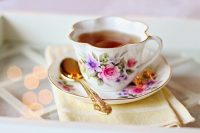 (Virtual) Tea with a Homeopath
Do you have interest in learning about homeopathy? Would you like to learn how to use a homeopathic kit to treat common ailments at home?  Join me for an online version of Tea with a Homeopath.
Upcoming Virtual Tea With a Homeopath
Monday October 17, 2022 – 7pm EST (1 hour)
Grab a cup of your favorite tea (or coffee!) and join me, Abby Beale, in an informal conversation about homeopathy focusing on how it can help with everyday ailments safely, effectively and inexpensively. Invite your friends and learn together!
Want to Host a Tea?
Tea with a Homeopath is an intimate get together comprised of your friends/family/interested colleagues that is held at either your home or other meeting space. It's a free event where we talk about homeopathy and learn how to get started using a homeopathic kit at home for all kinds of acute situations like bumps and bruises, digestive issues, colds, coughs, flus, bee stings, skin rashes and so much more!
If you have a group of people you'd like to introduce to homeopathy, contact me to set up a tea time. We can hold it virtually OR if possible, we can meet in person – I bring the tea and snacks; you provide the people and the place!
Tea coordinators will be gifted either a first-aid homeopathic travel kit and user guide OR credited for one follow up appointment with thanks for helping spread the word about homeopathy.
Free Webinar Playback:
What Everyone Wants to Know About Homeopathy
On March 30, 2020, I offered this free webinar called "What Everyone Wants to Know About Homeopathy". I had planned this before the Covid-19 quarantine and felt it was an interesting confluence that I had it set up to run during this precarious time.
If you've been curious about what homeopathy is, and to know more about what it isn't, I'm posting the playback link below for anyone interested in learning more. It's about 40 minutes of information and 20 minutes more of participant Q&A. If after viewing this you have further questions, please be in touch through my Contact page.